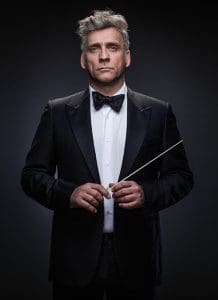 All Episodes Streaming September 1-30, 2022
Israeli television show.
Length: 10 episodes; 40 minutes each
Genre: Drama
Language: Hebrew, with English subtitles
Available: September 1 – 30, 2022
Summary
A world-renowned musician and orchestra conductor abandons fame and fortune in order to return to the home he left 30 years ago, leaving behind a brilliant career and a beloved girlfriend. At home, he finds his father in a state of progressive Alzheimer's, his only joy being able to sing in the local choir. When the choir's conductor passes away, he decides to take his place. Unbeknownst to his family and closest friends, he is facing the toughest challenge in his personal and professional life, and the worst possible fate for a musician. This series features award-winning actors Lior Ashkenazi and Shira Haas.
Starring:
Lior Ashkenazi
Leora Rivlin
Dov Glickman
Efrat Ben Zur
Shai Avivi
Dolev Mesika
Shira Hass
Noa Koler
Rike Schmid
Episode 1
Nobody knows why Noah, a famous pianist, leaves Chicago just before a concert and abruptly returns to his parents' apartment in Petah Tikva. He starts conducting a local choir, and trades the biggest stages with the neighborhood community center.
Episode 2
Noah is the conductor of the local choir. He keeps his problem a secret and tries to unite his demented father and his tough mother. Gil falls in-love with Odi, while his parents are deeply hurt by his decision to leave.
Episode 3
Noah tries an alternative treatment to his hearing problems and plan to reunite with Liv and his work in Chicago. Gil and Odi hurt each other and try to overcome their love.
Episode 4
Liv, a musician and Noah's sweetheart, comes to Israel trying to understand why he left with no explanation, but she has a secret of her own. She is shocked to realize he is conducting a local choir. Meanwhile, Gill is having a hard time overcoming Odi, but Gavriel gives him a lesson and a job.
Episode 5
Shabtai is upset because Noah has not noticed him, thus far. Noah's father ignores him. A newspaper article exposes hurtful memories for Rona and breaks her confidence about her singing and Gill's talent.
Episode 6
Noah meets at the elderly home a teacher from his childhood, which raises a painful memory. Asher deals with a complicated and strange case making him feel inferior compared to his genius childhood friend Noah.
Episode 7
Liv sends Noah his belongings and makes an ultimatum. Noah hesitates whether to have the risk surgery for love. Ben Zion escapes the elderly home looking for his old sweetheart Betty, which makes Gerta jealous.
Episode 8
Gerta breaks down and suffers from anxiety, so she joins the rehearsal in the community center. Noah consults with Dolly and Liv regarding his risky operation but gets opposite advice. Rona and Gill try to celebrate Asher's birthday but get resistance from him.
Episode 9
Terrified Noah is having the risky surgery and meets his father in his dream as well as Haim Nahman Bialik. Gill overwhelmed by his parents love anxiously waiting for his flight, invites Odi to come to New York with him.
Episode 10
Torn between 2 countries, 2 parents and 2 lovers, Noah is nearing the answer to his soul's mystery.