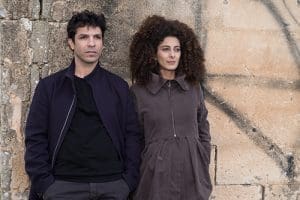 All episodes streaming
October 1-31, 2022
Israeli television show.
Length: 8 episodes; 30 minutes each
Genre: Drama
Language: Hebrew, with English subtitles
Available: October 1 – 31, 2022
Summary
It's summer 2014. Muna (Mouna Hawa, In Between, Fauda), is an Israeli-Arab photographer living in Tel Aviv, where she shares a studio with a fellow Palestinian artist and dates a Jewish TV producer. She has just been chosen to represent Israel in a prestigious international photography exhibition in Paris. Her father and his neighbors in their Arab village are against Muna's participation, as are the Jewish critics who don't want an Arab-Israeli representing them, especially in wartime. Muna, caught between two worlds, is determined to forge her own path, even if it means upsetting the relationship with her Jewish boyfriend, Yaniv. Produced by musician Mira Awad (Arab Labor) and inspired by her own story. (Warning: film contains sexual references.)
Starring:
Mouna Hawa
Roy Assaf
Ala Dakka
Rebecca Telhami
Salwa Nakkara
Suhel Haddad
Amjad Bader
Neta Plotnik
Uri Gabriel
Tracy Abramovich
Tamar Zur
Yonatan Dekel
Jalal Masarwa
Mira Anwar Awad
Adi Gilat
Loai Noufi
We are streaming another great Israeli TV show in September. Visit the "The Conductor" page.
Episodes
1 Highs and Lows
2 Red Color
3 Guests for a Moment
4 Made War, Not Love
5 Weak Spot
6 You Cannot Choose Your Family
7 Little Comforts
8 Get off the Fence