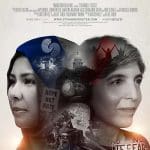 On March 7, 2021, the festival hosted a discussion about Jewish and Muslim women joining together to overcome the long history of distrust between their two religions. We were delighted to have had the women listed below as our guests. Please click here to watch a recording of the chat on YouTube. (Clicking here will take to YouTube.)
Kirsten Kelly – Senior Producer, Transform Films– Kirsten is an Emmy-Award winning documentary filmmaker who is currently the Senior Producer for Transform Films, overseeing development and production of long- and short-form documentaries. Recent credits include: Stranger/Sister (premiere Fall 2020); Healing the Healers: Communal Trauma documentary series (Golden Telly Award 2020) which supports clergy during moments of mass community trauma. Upcoming: Healing the Healers: Domestic Violence (Fall 2020 Release). Her Emmy-winning independent film, The Homestretch, a feature documentary about homeless high school students in Chicago Public Schools. Her work has been supported by the ITVS, CPB, AmDoc, MacArthur Foundation, the Sundance Institute, Fledgling Fund, Chicken and Egg, Good Pitch and Bertha Foundation/Brit Docs. She has a diverse background in developing new content which focuses on social justice issues. Kirsten is a Fellow at the Sundance Documentary Institute and a graduate of the Master's Directing program at The Juilliard School.
Katie Taber – Co-Director, Transform Films. Taber's recent documentary projects include producing Siempre, Luis, which follows Luis Miranda, the father of Lin-Manuel Miranda, as he attempts to mount a production of "Hamilton" in Puerto Rico in the aftermath of Hurricane Maria. Siempre, Luis premiered at Sundance 2020 and will stream on HBO this October. She directed the Wavelength Productions feature How to Be Normal, the coming of age story of a young man who, as a child, underwent a unique and controversial treatment for autism. Other projects include the PBS special Into the Night: Portraits of Life and Death and the award-winning Milwaukee 53206. She has worked on films for the PBS series FRONTLINE including Life and Death in Assisted Living, Dollars and Dentists, and The Child Cases, and she was a co-producer on the four-part PBS NOVA series: The Fabric of the Cosmos. Taber co-produced the Emmy-award winning feature documentary Homestretch.
Melanie Mages-Canale – Founder, and Co-Chair Sisterhood of Saalam-Shalom, Sacramento. In her first act, Melanie was a special-ed high school teacher before starting her own photography business in 1981. Meanwhile, she was raising two children as a single mom and taking care of her 100-year-old farmhouse in Carmichael. Melanie retired in 2016. In addition to her work with the Sisterhood, she now spends her time enjoying her children, her three grandchildren, gardening and playing piano.Melanie's efforts have clearly tapped into a need in our community. In three years, the local Sisterhood of Salaam Shalom grew to six chapters plus a teen chapter.
Dr. Anne Kjemtrup – Founder, and Co-Chair Sisterhood of Saalam- Shalom, Sacramento. Dr Kjemtrup is an active member of the Muslim community in the broader Sacramento Area. In addition to her Sisterhood of Salaam-Shalom activities, she is involved in the management team at SALAM Islamic Center in Sacramento, and participates in several local Muslim and Interfaith organizations. She believes that active participation in these organizations is not only important for the community but positively influences her family- with all them also engaged in volunteer efforts. Professionally, Dr Kjemtrup works as an epidemiologist with the California Department of Public Health.
Meteenah Jackson Fisher – Member of Sisterhood of Saalam-Shalom, Sacramento Chapter 3 and owner of Jackson LMS Associates, Inc., a Change Management Co., located in Sacramento, Atlanta and Wilmington. Originally from Wilmington, DE, Meetanah has resided in Sacramento for the past four years. She is the mother of two grown sons.
When: Sunday, March 7, 2021 @ 1:00 pm PST
Where: Available on You Tube.
What: A discussion of the film Stranger/Sister and efforts to improve relations between Muslim and Jewish communities.

How: If you have purchased a ticket for the film, you will be sent an e-mail with a Zoom link prior to the event. If you are a pass holder, you will have access via your portal.