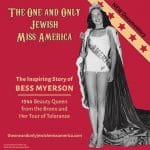 Click here to watch the discussion of the of the film The One and Only Jewish Miss America.
The One and Only Jewish Miss America will be playing March 21-23. To learn more about the film and view a trailer, click here
We are delighted to have three people associated with the film and with Bess Meyerson to discuss the film, David Arond,
Vicki Gold Levi

, and Cindy Graff Cohen.

David Arond is the director and producer of The One and Only Jewish Miss America. He started his career in film as a sound effects editor in Hollywood. Later he segued into nonfiction, storytelling, and creating documentaries for PBS, including the MacArthur Foundation Award-winning "Mother of the Year." His PBS-TV series work includes producing/directing the weekly program "On The Internet." David specializes in international TV and media production, and has worked in Russia, Central Asia, Europe, Mexico, Latin America and Australia. For three years, he was bureau chief and a broadcast journalist in Moscow for Worldwide Television News, London, and the PBS Nightly Business Report.

Vicki Gold Levi was a long-time friend of Bess Myerson, going back to when Vicki, at the age of six, served as her page when Bess returned to the Miss America pageant in 1946 to pass on her crown. Born and raised in Atlantic City, Vicki has shared her hometown's history through books, television appearances, and museum exhibits.Her father was Al Gold, the city's first official photographer; some of his photos are featured in this documentary. Author of five books and a collector of historic photographs and artifacts, Vicki co-founded the Atlantic City Historical Museum and consulted on the PBS documentary "There She Is, Miss America;" DisneyWorld's Boardwalk Resort in Orlando; and HBO's Boardwalk Empire series. Vicki is a go-to source for information about the Miss America pageant, having served as a pageant judge herself.

Cindy Graff Cohen is a writer and editor who has worked with the marketing of "The One and Only Jewish Miss America" since its release a year ago. She will moderate the discussion and looks forward to hearing your questions.
When: Tuesday March 23 @ 12:00 pm (noon) PDT
Where: Click Here
What: A discussion of the film The One and Only Jewish Miss America.